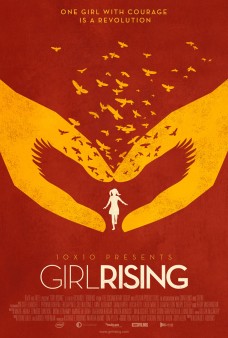 We are excited to welcome Shabana Basij-Rasikh to the County Theater on Saturday, March 9th at 10am to introduce GIRL RISING, a documentary about the power of education.
The film features nine extraordinary girls from nine countries striving beyond circumstance, and pushing past limits. Their unforgettable true stories capture the strength of the human spirit – and the power of education to change the world. Voices lent for the narration from Cate Blanchett, Selena Gomez, Anne Hathaway, Salma Hayek, Liam Neeson, Meryl Streep, and Kerry Washington.
Educate girls. Change the world.
Tickets are $10. SOLD OUT!
About Shabana Basij-Rasikh
Shabana Basij-Rasikh grew up in Afghanistan where women are forbidden to go to school. However, she managed to get an education by dressing as a boy, attending a secret school and finally graduating top in her class at Middlebury College. She is now Managing Director and co-founder of the SOLA (School of Leadership – Afghanistan), and in connection with 10×10, the organization presenting this film, she is traveling the world to bring about change and awareness. 
For more inspiring information on Shabana make sure to watch her TED talk, an interview on CNN with Christiane Amanpour, and listen as she recounts her story for 10×10 to kick off their campaign to educated girls.
RELATED EVENTS
You are also invited to the Girls Helping Girls Fundraiser for Shabana's organization School of Leadership Afghanistan. Bring your mom, best friends, and daughters (over 10). Dinner, cash bar and lots of fun shopping. Sunday, April 7, 2013 from 5:00-8:30 pm. Tickets are $40 and must be pre-purchased by March 25. Click here to purchase tickets.